2-Circuit Track LA-212 L Connector
Dimensions:

2.75"L x 0.75"H x 2.75"W x 1.4"D

Labels: UL
3-way L connector (right or left) for two circuit track can be used as a standard or reverse polarity L connector. Connector has one .5 inch top K.O. that can be used as power feed. Finish in White, Black or Silver. An optional straight cover is included. 2.75 inches wide x .1.75 inches long x .75 inches high x 1.4 inches deep.
Download Specification Sheet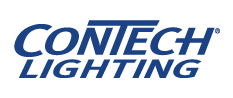 ConTech uses the best components resulting in the best fixtures. Since 1980, ConTech Lighting has been committed to providing innovative, high-quality products. ConTech continually searches for ways to make their products easier to work with, perform better and last longer. With cutting-edge fixture designs and superior product engineering, ConTech is constantly introducing new products that feature the latest in lamp, ballast and transformer technology.