60W 24VDC Cord and Plug LED Electronic Power Supply
LED power supplies transform and regulate power from a line voltage power source into low voltage power for use with LED lighting. The TEB-60L-24DC power supply accepts input voltage of 120 volts AC and outputs 24 volts DC power up to 60 watts. Minimum load 25 watts. The low voltage output may be dimmed using an electronic low voltage dimmer, sold separately. Recommended dimmers include Lutron DIVA DVELV-300P, Skylark SELV-300P and Maestro MAELV-600. Maximum length before refeeding power is 25 feet. The aluminum enclosure with service shutoff switch allows electrical connections to be made inside the box. Knockouts are provided for use with .50 inch conduit. Comes with on-off switch and includes a 6 foot cord and plug. Also available in a hardwire version. Dimensions: 7.65 inches wide x 2.5 inches deep x 1.47 inches high.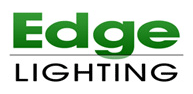 See it in a New Light with Edge Lighting. We start with a basic lighting problem and solve it from a technical stand point while incorporating the essential elements of contemporary yet timeless design. We develop and manufacture specification grade, energy efficient fixtures that exhibit superior craftsmanship and aesthetics, while utilizing the latest in engineering technologies. The simple yet elegant collection is perfect for a variety of indoor and outdoor applications in both residential and commercial settings. Made in the USA.