Crescents Chandelier
Crescents Chandelier is available in a platinized silver or warm-toned silver leaf finish with unique crescent shaped arms hand-fabricated of sturdy steel, precision cut, curved & fitted to form each cambered, 3-sided faceted arm. Features hand-blown crystal candles. Eight 10-watt, 120 volt JCD G4 base halogen bulbs are required, but not included. Dimensions: 39W x 20H.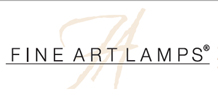 Drawing on its late-19th century roots as a glass making factory, Fine Art Lamps uses hand-blown glass, handcrafted metal, and other unique materials to create some of the finest lighting fixtures in the world. Since 1940, the New York based lighting company has gathered the finest designers, sculptors, and decorative artists to create unique, high quality lighting designs.
Browse our selection of modern and contemporary lighting from Fine Art Lamps. Choose from contemporary and modern chandeliers, pendants, wall sconces, table lamps, ceiling lighting, and outdoor lighting from Fine Art Lamps. Made in the USA.