Clover LED Suspension
Clover LED Suspension features a moulded polyurethane matt varnished body, aluminium reflector. Two 150-watt, 120 volt T4 DC Bayonet halogen bulbs are required, but not included. Dimensions: 9.8W x 27.55H.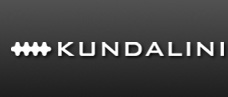 Kundalini started back in 1996, when it developed the intuition of a new typology of lamps, extremely innovative and outrageous forms of light, symptomatic of a strong identity and a product culture expression of a universal language.
Since, Kundalini has been classified by the international contemporary design community as a pioneering company not only for the development of the new themes that it has introduced and which are now very widespread, but also for the innovative spirit of its style. Kundalini counts on the cooperation of emerging talents, internationally renowned designers and architects who are sharing and underlining the Kundalini mission.