ZFogless LED Lighted Mirror
The Z'Fogless™ LED Lighted Mirror features a patented hydrophobic coating to repel water and keep it completely fog-free no matter how steamy the environment. The 1X magnification is perfect for shaving, manscaping, and everything in between. No matter how dim the environment, the two bright LED lights are sure to illuminate your face for a fuller, brighter reflection. Includes a razor holder, LCD clock, and easily mounts to most any smooth surface via suction cups, hanging cord, clip, or double-sided tape is included. LED lights shut off after five minutes. Dimensions: 8 inch height x 8.5 inch width x 1 inch depth.
Dimensions:
8.5"L x 8"H x 1"D
Lamp Source:
LED
Bulb:

2 x LED/120V LED
Bulb included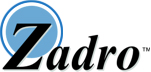 Zadro has been a leading innovator in the Mirror and Bathroom Accessories market for over twenty five years. Zadro has patented, designed, and created an array of products introduced as "market firsts," beginning with the world's first fogless mirror. Zadro has since developed and created an entire range of innovative bathroom accessories, including LED lighted mirrors, variable magnification mirrors, and more.
---

On Sep 15, 2013 by Charles L. from New York, New York (Customer)

Quality

Price

Design

Light Output

Easy Installation

WOW Factor
So this is a decent mirror and it works well in my shower, but know that the "fogless technology" is really just a coating on the mirror that lasts a week or so. You have to buy more liquid to re-surface the mirror every so often if you want it to stay fogless. All in all, goo though.
---