ZFogless 3x/1x Telescoping Fogless Shower Mirror
Dimensions:

6.5"L x 19"H x 6.5"W
The Z'Fogless™ Telescoping Shower Mirror is specially designed to run hot water straight from your shower into the mirror to ensure a fog-free reflection every time. The 1X magnification is great for all-around viewing while the 3X magnification is perfect for getting up close and personal when shaving smaller, sensitive areas of your face. Includes a dual razor/accessory holder and easily mounts to any standard shower head. The telescoping arm attaches to any standard .5 inch shower arm and adjusts from 14 inches to 19 inches, while the mirror head pivots for optimal viewing. Dimensions: 19 inch height x 6.5 inch mirror diameter.
Download Specification Sheet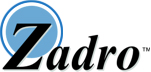 Zadro has been a leading innovator in the Mirror and Bathroom Accessories market for over twenty five years. Zadro has patented, designed, and created an array of products introduced as "market firsts," beginning with the world's first fogless mirror. Zadro has since developed and created an entire range of innovative bathroom accessories, including LED lighted mirrors, variable magnification mirrors, and more.