Aurora Dual Round 3.3 Inch Housing and Trim
Dimensions:

14.75"L x 5.75"H x 12.1"W

Labels: ETL

Damp Location

Airtight

Bulb:

MR16/GU5.3 (bipin)

2 x MR16/GU5.3 (bipin)/37W/12V Halogen

Bulb

not

included

LED/ES Bulb Options:1 x MR16/GU5.3 (bipin)/7W/12V LED

MR16/GU5.3 (bipin)

Function:

Downlight

Ceiling Type:

Drywall Trimless/Flush

Housing Type:

New construction IC Airtight

Housing Height:

6"

Aperture Shape:

Round

Aperture Size:

3.300"
Aurora Dual Round Edge 3.3 inch trim and housing is a specification grade, adjustable accent fixture for plaster or drywall construction. Two 12 volt MR16 37 watt IR maximum lamps or two MR16 LED 12 volt 7 watt, one per socket, not included. The flush mounted rigid plaster plate, which is finished into the ceiling, maintains a flat finish and defines the Truly Trimless Pure edge (knife edge) 3.3 inch aperture. Combined with the Aurora dome and the tilt gear hidden behind the lamp creates a clean internal lock. Features hot aiming with Philips screwdriver offering 20 to 45 degree vertical adjustment and 362 degree horizontal rotation without beam clipping. Includes standard 120 volt magnetic transformer, IC and air-tight, suitable for remodel or new construction. Secondary output voltage is 11.8 volts. Designed to accommodate ceiling thickness from .50 to 1.25 inches. Dome features anodized soft haze finish and hides electrical hardware, tilting for easy access to junction box and transformer. Includes two snoots and soft focus lenses, with room for two lamps and two additional accessories. ETL listed for damp locations. 14.75 inch length x 12.1 inch width x 5.75 inch height. Aurora Gear Cover and light control accessories sold separately.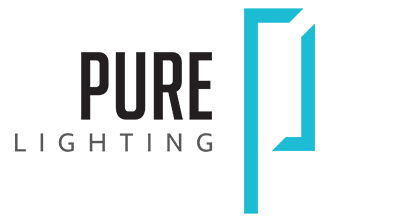 Pure Lighting combines minimalist design with state-of-the-art technology to produce innovative lighting that seamlessly blends into drywall or plaster ceilings. The revolutionary collection features Truly Trimless recessed fixtures, advanced LED RGB technology and concealed lighting components that provide a clean, glare-free internal look ideal for commercial or residential applications.
The Aurora RGB is the only recessed fixture to combine both halogen accent light with colored LEDs resulting in a glowing disc of color at the aperture while the halogen white light projects downward performing an accent function. LEDs are controlled to be static color, cross-faded or set to the beat of the music. Other features of the Aurora family include hot aiming lamp adjustment, knife edge apertures, a rigid plaster plate and dome interior. The self locking gears and other hardware are hidden behind the lamp within the dome interior and the knife edge aperture eliminates glare and brightness creating a skylight effect. The flush mounted rigid plaster plate continues a clean uninterrupted ceiling and prevents chipping and cracking at the trim aperture, which is common with other recessed manufacturers.
The fixtures are available with the Truly Trimless 3.3" aperture, along with beveled and flat flush trims of various aperture sizes. Complimenting the Aurora family, the Genna wall wash features a trim that produces no-glare at the aperture and an ultra uniform field of light that covers the entire wall with a straight edge at the ceiling plane. Beyond the accents and downlights, the Stratus wall grazer offers dramatic yet energy efficient lighting for textured surfaces by uniformly (8 x 160 beam) illuminating vertical surfaces with warm white or cool white LEDs.
Made in the USA.