Heavy Metal Floor Lamp
Heavy Metal Floor Lamp is unrefined in its roughly artisanal appearance and visible welds, refined in its vintage-inspired design. Comes with Frosted glass and a Black metal dipped in a special acidic bath which alters its surface to a different extent each time, accelerating the natural oxidation process. Up and down light is also warm, with an enveloping and involving effect, supported by a three-legged structure with two practical circular storage surfaces, ideal when teamed with a sofa or an armchair. Heave Metal has a 59 inch cord. One 200 watt, 120 volt T3 type RSC base halogen bulb is required, but not included. UL listed. Top of the lamp is 15.75 inches wide. 17.75 inch width x 70 inch height.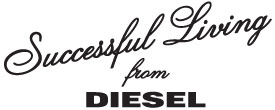 From rock to pop, from casual to vintage and from graphics to art. This is a completely new collection of lamps that speaks a multitude of languages, tells different stories and expresses an unmistakable style: the Diesel lifestyle. Ironic, unconventional, fun, fi ery and creative. A way of being and of dressing that also becomes a way of furnishing. A new adventure that lets you customise your space, going beyond cliché's and bringing your personality to light. Hard as metal, soft as fabric, slim as a luminous cage, shiny as chrome-plated glass, but always unique and different: Successful Living from Diesel with Foscarini.