Lytespan Alcyon MR16 Mini Cylinder Track Head
Lytespan Alcyon MR16 MIni Cylinder track head features a wireless stem profile with infinite horizontal rotation and 0-90 degree vertical adjustment. Includes an integral glass shield for use with unshielded lamps. Class two 12 volt electronic transformer included. Finish available in matte white, matte black, and aluminum. Requires one 50 watt, 12 volt, MR16 bi-pin base halogen without integral lens. Requires one 37 watt, 12 volt, MR16 bi-pin base halogen la,mp with integral lens. Directional light distribution. UL listed. 2.5W x 5.25H x 2.75L.
Bulb Options:
1 x MR16/GU5.3 (bipin)/37W/12V Halogen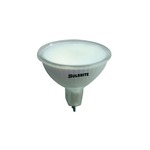 MR16/GU5.3 (bipin)
1 x MR16/GU5.3 (bipin)/12V LED

MR16/GU5.3 (bipin)

Lightolier is a company with a rich history of growth and innovation. Lightolier was founded in 1904, in the early days of electric lighting. By the Second World War, Lightolier had built a reputation for design leadership in decorative lighting. After the war, the company entered the architectural lighting market in a major way. Rapidly, Lightolier earned recognition for its sophisticated and sensitive designs. With its introduction of track lighting in the 1960's, the company became an important player in the fast growing store lighting market. Also in the 1960's the company began asserting its expertise in downlighting reflector technology. Lightolier figured importantly in the use of downlights in residential, as well as hospitality and entertainment spaces. In the 1970's, Lightolier pioneered high-performance fluorescent lighting and lighting systems for stores and office work spaces. In 1986, Lightolier created the first digital dimmer and entered the lighting controls market; energy controls followed in 1991. Throughout the 1990's, Lightolier has concentrated on Energy Smart lighting. Currently, Lightolier actively supports the development and adoption of good lighting.