28 Series 6 Inch Ultra-Trim Baffle Downlight Trim
28 6 inch Ultra-Trim baffle downlight trim features a white trim with a black or white baffle option. Air-Loc rated, wet location approved when used with outdoor rated lamps. One 75 watt A19, 100 watt PAR38, 75 watt PAR30/PAR30L, 85 watt BR30, or 120 watt BR40 for use with the IC2 housing, one 100 watt A19, 150 watt A21, 150 watt PAR38, 75 watt PAR30/PAR30L, 85 watt BR30, or 120 watt BR40 for use with the TC2 or TC2R housing, one 75 watt PAR30/PAR30L, and 65 watt BR30 for use with the IC22, IC22R, and IC22W housings, one 60 watt A19, 65 watt BR30 75 watt PAR30/PAR30L, or 90 watt PAR38/BR40 for use with the IC23 housing, lamp not included. Can also be used with compact fluorescent housings: ICPL/PL613: 13W, ICPL/PL618: 18W, ICPL626 Series: 26W; ICPL632 Series: 32W, PL642 Series: 42W 4-pin CFL bulbs, not included.
LED/ES Bulb Options:
1 x T4/GX24q-3/26W/120V Compact Fluorescent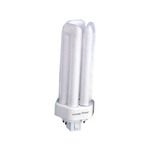 T4/GX24q-3
Function:
Downlight
Ceiling Type:
Drywall with Trim
Aperture Shape:
Round
Aperture Size:
5.875"
Download Specification Sheet

UL, Wet location

Juno Lighting Inc. is one of the largest manufacturers of recessed and track lighting including Trac-Master®, Trac 12, Flex 12, Trac 12/25, and recessed downlights. Juno was founded in 1976 with the vision of offering high quality lighting fixtures that are attractive, well-engineered and easy to install. Aculux is a comprehensive series of high-performance architectural-grade recessed luminaires. Juno designs, manufactures and markets track, recessed and linear undercabinet / casework lighting products for a broad range of retail, commercial and residential applications.