Aurora Square 2 Inch Accent Trim and Housing
Aurora Accent Square Edge 2 inch specification grade recessed adjustable accent fixture for plaster or drywall construction. Trim finish available in White and may be painted on site to match ceiling finish. The flush mounted rigid plaster plate which is finished into the ceiling maintains a flat finish and secures the removable flush trim. Combining the Pure edge (knife edge) 2 inch aperture with the Aurora dome and the tilt gear hidden behind the lamp creates a clean internal look. Hot aiming with a Philips screwdriver offers 0-42 degree vertical adjustment and 362 degree horizontal rotation without beam clipping. Designed to accommodate ceiling thickness from .50 to 1.25 inches. Includes AH1 IC AirTight housing with a magnetic transformer rated for 75 watt load at 120 volt 60Hz, suitable for remodel and new construction installations. Secondary output voltage is 11.8 volts. Requires one 12 volt GU5.3 MR16 IR lamp up to 50 watts, not included. 50 watt IR equivalent to 75 watt halogen. Machined aluminum snoot and die-formed aluminum back shield controls internal light spill. Includes snoot and a soft focus lens, with room for lamp and two additional accessories, sold separately. UL listed for damp locations.

Bulb Options:
1 x MR16/GU5.3 (bipin)/12V LED

MR16/GU5.3 (bipin)
Function:
Accent Lighting
Ceiling Type:
Drywall Trimless/Flush
Housing Type:
New construction IC Airtight
Housing Height:
6"
Aperture Shape:
Square
Aperture Size:
2.000"
Download Specification Sheet

Installation instructions

Manufacturer's / Catalog Specification Sheet

Dimmer Compatibility Chart

UL, Damp Location, Airtight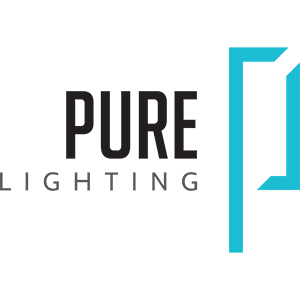 Pure Lighting combines minimalist design with state-of-the-art technology to produce innovative lighting that seamlessly blends into drywall or plaster ceilings. The revolutionary collection features Truly Trimless recessed fixtures, advanced LED RGB technology and concealed lighting components that provide a clean, glare-free internal look ideal for commercial or residential applications.
The Aurora RGB is the only recessed fixture to combine both halogen accent light with colored LEDs resulting in a glowing disc of color at the aperture while the halogen white light projects downward performing an accent function. LEDs are controlled to be static color, cross-faded or set to the beat of the music. Other features of the Aurora family include hot aiming lamp adjustment, knife edge apertures, a rigid plaster plate and dome interior. The self locking gears and other hardware are hidden behind the lamp within the dome interior and the knife edge aperture eliminates glare and brightness creating a skylight effect. The flush mounted rigid plaster plate continues a clean uninterrupted ceiling and prevents chipping and cracking at the trim aperture, which is common with other recessed manufacturers.
The fixtures are available with the Truly Trimless 3.3" aperture, along with beveled and flat flush trims of various aperture sizes. Complimenting the Aurora family, the Genna wall wash features a trim that produces no-glare at the aperture and an ultra uniform field of light that covers the entire wall with a straight edge at the ceiling plane. Beyond the accents and downlights, the Stratus wall grazer offers dramatic yet energy efficient lighting for textured surfaces by uniformly (8 x 160 beam) illuminating vertical surfaces with warm white or cool white LEDs.
Made in the USA.