Color Dial Controller
Color dial controller with power supply (CDP) is a stand alone DMX lighting controller for Edge Lighting RGB fixtures. Easy to install, the wall-mountable assembly is ideal for applications that desire a variety of effects with an easy to use interface. Multiple lighting effects can be accessed and modified with the simple-to-use rotary/push dial (no programming required). Push the dial to select Fixed Color, Color Wash, Random Color, Random Fade, White Light, or off. Rotate the dial to adjust the color or speed, depending on the chosen effect. CDP comes ready to mount into a standard U.S. multi gang wall box. A 24VDC power supply (included) fits discreetly inside the junction box behind the controller. It is designed for power and data connections to be hardwired to the internal five-position terminal block. Switches are provided to disable/enable effects prior to installation. One-quarter inch D-shaft fits most standard dimmer knobs for knob customizing.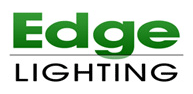 See it in a New Light with Edge Lighting. We start with a basic lighting problem and solve it from a technical stand point while incorporating the essential elements of contemporary yet timeless design. We develop and manufacture specification grade, energy efficient fixtures that exhibit superior craftsmanship and aesthetics, while utilizing the latest in engineering technologies. The simple yet elegant collection is perfect for a variety of indoor and outdoor applications in both residential and commercial settings. Made in the USA.