30W 12VDC LED Power Supply
LED power supplies transform and regulate power from a line voltage power source into low voltage power for use with LED lighting. The PS-30W-12VDC power supply accepts input voltage ranging from 100-130 volts AC and outputs 12 volt DC power up to 30 watts. Not dimmable. It can be converted to 0-10V style dimming by adding the OT-DIM (product #51516) Osram Sylvania, OT-DIM module (sold separately). Can be used indoor or outdoor.
Dimensions:
8.5"L x 1"H x 1.45"W
Dimmer:
Not Dimmable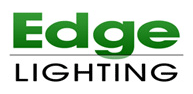 Form follows function at Edge Lighting. We start with a basic lighting problem and solve it from a technical stand point while incorporating the essential elements of contemporary, yet timeless design. We develop and manufacture specification grade, energy efficient fixtures that exhibit superior craftsmanship and aesthetics, while utilizing the latest in engineering technologies. The simple, yet elegant, collection is perfect for a variety of indoor and outdoor applications in both residential and commercial settings. Made in the USA.