Vent-Bettina Ceiling Fan
| | |
| --- | --- |
| Labels: UL | |
Vent-Bettina Ceiling fan is thoughtfully designed with its arms gently upward curving. The fan offers fluid lines and quiet axial rotation. The motor heads can be infinitely positioned in 180 degree arcs for optimum air movement; the greater the angles of the motors to the hoizontal support rods (up or down), the faster the axial rotation. Constructed of cast aluminum, heavy spun and stamped steel. Carries a limited lifetime warranty. Finish available in polished chrome, brushed nickel, polished copper, bronze or black. Also available in white, brushed copper, polished brass, brushed brass, black nickel, and bronzette as a special order. 10, 20, 30, 48, or 72 inch downrods available, 20 inch is standard. Airflow is 6,174 cubic feet per minute and uses 218 watts. Airflow efficiency is 28 cubic feet per minute per watt. UL listed.
Download Specification Sheet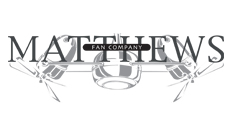 Since 1992, Matthews Gerbar has combined ventilation solutions with contemporary design. Matthews Gerbar also designs uniquely crafted contemporary lighting. All products are handmade and suitable for both residential and commercial applications.