Ortenzia Floor Lamp
The Orten'Zia Floor Lamp features Nickel or Gold finish available in a large 27.5 inch diameter, a medium 19.7 inch diameter, and a small 7.87 inch diameter floor versions as well as wall sconce, ceiling and suspension options.  One 200 watt 120V A23 lamp for the large version, one 150 watt 120V A21 lamp for the medium version and one 40 watt T3 KX2000 halogen for the small version not included.  Note: Red cord not available on 120V version.  Designed by Bruno Rainaldi.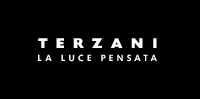 Working to redefine the way luxury lighting is conceived and made, Terzani has been combining traditional Italian craftsmanship with modern technology since it was founded in Florence in 1972. Sergio and Nicolas Terzani are the father-son team that brings art to the world of luxury lighting design.
Sergio Terzani's original vision was to create handmade lighting that blurs the lines between art, luxury and design. The resulting pieces are sculptural and beautiful, upholding longstanding traditions of metal and glass work, with a meticulous eye for design detail. Sergio's son, Nicolas Terzani, joined the company as CEO and, with input from his father, has continued to innovate with the creation of the Terzani Lab, where new lighting ideas can be developed and tested.
Designers in the Lab explore a progressive fusion of traditional and contemporary design using concepts and techniques from Italian craft traditions such as iron work, wood carving, and Murano glass blowing. While many of the designs are created in-house by Terzani's experienced design team, they also collaborate with renowned designers like Nigel Coates, Maurizio Galante, Christian Lava and Dodo Arlsan. The resulting light-art fixtures bring classic elegance to the modern landscape.
Terzani offers stunning, one-of-a-kind modern Italian lighting. Find chandeliers, suspensions, pendants, table and floor lamps, and wall sconces.